Dundalk, Newry and Greenore Railway
---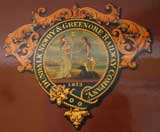 Coat of Arms

DNGR monogram
See photo at top of page. An ornate monogram also existed (see above). An earlier version of the crest, with a 2-2-2 loco and 4 wheeled coach (instead of a 4-4-0 tender loco and bogie coach), existed in the early days of the company.


DNGR coa. Source: SRA304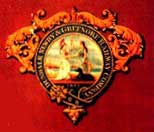 DNGR Coat of Arms. Source: SRA1298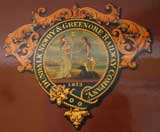 (full image 53.8K)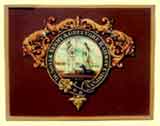 DNGR coa. Source: GCR708. (full image 8.8K)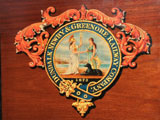 DNGR coa. Source: 'Stop the drop', Feb. 2011. (full image 209K)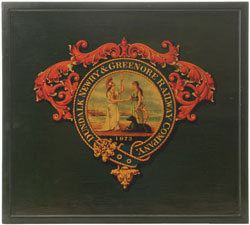 DNGR coa. Source: SRA912 (full image 34K)
Rolling Stock railwayana
Locomotive nameplates and numbers: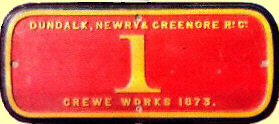 DNGR 'Macrory' cabside. Source: SRA698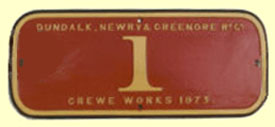 DNGR 'Macrory' cabside. Source: SRA1206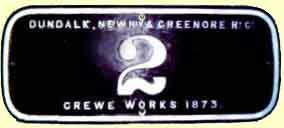 DNGR 'Greenore' cabside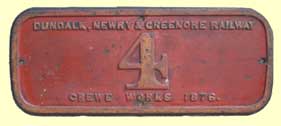 DNGR 'Newry' cabside. Source: SRA312 (full image 60K)

DNGR nameplate. Source: GCR411. (full image 24K)
Note: The two missing cabsides are No.3 'Dundalk' and No. 6 'Holyhead'. Incidentally, A.J. Macrory was an Irish solicitor who was a Director of the Dundalk and Enniskillen Railway and a prime mover in the establishment of the DNGR [Source: Barrie 1957].
MACRORYx2, NEWRY, GREENORE, DUNDALK - All at NRMY
No. 3 - P, No. 1 - P, No. 2 - UFTM.
Works & tenderplates:
---

Return to index page, or go to DNGR subpage, DNGR lineside railwayana.


Return to auction price data on original pages


For genealogy, go to my Lennan genealogy pages

---
Page posted 27/7/1997. Revised 29/3/13

This URL: http://www.irishrailwayana.com/ or http://www.irishrailroadiana.com/
Original URL: http://www.geocities.com/CapeCanaveral/Lab/8690/
Auction prices: http://www.lennan.be, and http://users.skynet.be/ken.lennan/index.htm or http://gallery.uunet.be/ken.lennan/ now http://home.tiscali.be/ken.lennan/
Genealogy URL: http://homepages.rootsweb.com/~lennan/
---