London Midland and Scottish Railway, Northern Counties Committee
---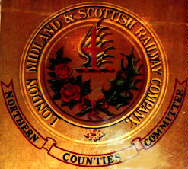 LMSNCC Coat of Arms
History: Summary
In 1923 the Midland Railway (Northern Counties Committee) became the London Midland and Scottish Railway (Northern Counties Committee). The narrow gauge Ballycastle Railway was acquired in 1924. Total track mileage was 347 (first track being 245, 42 of which was narrow 3ft. gauge). On nationalisation in the UK on 1/1/1948, the LMS(NCC) officially became the "Railway Executive (Northern Counties Committee)". It was incorporated in the UTA on 1/4/1949. In 1948 the company owned hotels at Belfast (Midland Station), Larne (Laharna) and Portrush (Northern Counties).

Rolling stock: Inherited MRNCC stock of locos. Earlier locos mainly built by Sharp Stewart and Beyer Peacock with subsequent locos from 1905 to 1923 built at Derby. Later locos were built at York Rd (2 1924, 3 1925, 1926, 1929, 1931, 3 1934, 3 1935, 1936, 1937, 1938, 2 1939, 1940, 2 1942), North British Glasgow (5 1924, 2 1925), Derby (4 1933, 4 1936, 4 1946, 6 1947), together with single locos from Bagnall 1926 and Hunslet 1928. In 1948 there were 65 locos (of which 4 were narrow gauge), 185 passenger coaches (6 narrow gauge), 52 other coaching vehicles, 2287 goods stock (169 narrow gauge) and 4 diesel railcars.
Works: The workshops were at York Rd. Station, Belfast.
Livery: From 1924 locos gradually painted Midland red with LMS crest on cabside and initials NCC on tank and tender sides. [EFC 1926 Passenger and goods engines were painted crimson lake. They were not lined and carried the letters NCC in serif characters on tender or tanks. Brass rectangular no. plates were affixed to cab or bunker sides.] From 1946 Midland red replaced by black with straw lining. Carriages initially green until 1924, then crimson lake, lining and lettering gold, black and yellow. [WPMcC: Prewar locos LMS maroon. Wartime livery black. Passenger rolling stock maroon] [WS: The LMS introduced the crimson lake (maroon) with the LMS crest on the cab and the letters 'NCC' on the tenders sides. Over the next 20 years, lettering style followed fashions and fonts used on the parent company. For example, the Derby buily moguls in 1933 carried very large 'NCC' letters on the tender, but from 1934 a smaller size prevailed. Up to the end of 1927, it was the practice for all LMS passenger engines, including tanks, to be painted in full livery. From 1928, for reasons of economy, it was decreed that only Express engines like the 'Royal Scots', 'Pacifics', 'Jubilees', should have full livery. The NCC, however, continued to paint passenger engines in red, except some older ones that retained 'invisible green'. This might have been justified for the 'GLENS4 AND 4Castles', since they were 'principal passenger engines', but hardly for the 'Counties' and 'Mountains' still less the C1 class 2-4-0 compounds. The Moguls, which were as much mixzd traffic engines as the LMS 'Black Fives', also got crimson lake on the basis that they were no he the 'principal passenger engines' but the 'Castles' still stayed red. Even the war time Moguls appeared in red. It was not until the closing stges of the Second World War that NCC engines were painted black with the exceptions mentioned. After 1945 a lined black livery was introduced, reflecting post-war LMS practice. Lining wasa single red line, with the LMS crest high on the cab, as seen on No. 74 on the rear cover. However the WT class 2-6-4T had a different lining using straw and maroon.]
Staff: Locomotive engineers were W.K.Wallace 1922, H.P.Stewart 1930, M.Patrick 1933, J.Thompson 1946-1949. Secretaries were J.Pepper 1922, Maj.M.S.Speir 1931 (both also Managers), J.W.Hutton 1941, W.S.Marshall 1946, R.McNeill (acting) 1948-9. Managers were James Pepper 1922-31, Maj.M.S.Speir 1931, Maj.F.A.Pope 1941, R.H.W.Bruce 1943, J.W.Hutton 1946-9.
Signalling: Changes were new box (replacing 2) at Macfin in 1924, closure of Harryville and Staffordstown boxes in 1925 and Kellswater in 1926, new cabins at Cullybackey and Ballymoney (replacing 2) in 1929. Resignalling of Portrush (1932), Limavady Jct. (1936), Magherafelt (1937). In 1933 three position block instruments were installed between Greenisland and Ballymena. In 1933 decision taken to alter the crossing loops at Ballymena, Cullybackey, Glarryford, Killagan, Dunloy, Ballymoney, Macfin, Coleraine and Portstewart, and Ballycarry on the the Larne line, to provide a fast road for non-stop trains. Interlocking between starting signals, tablet instruments and track circuits was provided. Many new track circuits were installed throughout the system. A long section token apparatus was provided for at Whitehead and Larne in 1936 and in the same year auxiliary tablet instruments at Portstewart and Ballymoney. Coleraine was resignalled in 1938, two boxes being replaced with electromechanical with full colour lights (electric direction control levers came into use). In 1943 an extension of the runway at Ballykelly meant special signalling arrangements there. In 1946 Dunadry signal box closed and Kellswater reopened to equalise block sections between Kingsbog Jct. and Ballymena.
In 1947-8 the situation, described by McCormick, was as follows: Belfast-Monkstown (double line, two aspect colour lights), Monkstown-Ballymena (double line Tyer's block), Ballymena (single line Tyer's tablet with exchangers), Macfin-Coleraine (track circuited), Cookstown branch and Derry Central lines (Tyer's tablet), Ballymoney-Ballycastle (train staff and ticket, Limavady Jct.-Limavady (Tyer's tablet), Limavady-Dungiven (train staff and ticket), Londonderry-Strabane (ETS), Kingsbog Jct.-Ballyclare (Tyer's tablet), Magherafelt-Draperstown and Larne Harbour-Ballyclare (one engine in steam)
Further reading: J.R.L.Currie, The Northern Counties Railway Vol.2 1903-1972, R.M.Arnold, NCC Saga, R.M.Arnold, Supplement to NCC Saga, R.M.Arnold, Steam over Belfast Lough, W.P.McCormick, Main Line Railways of Northern Ireland, William T Scott, Locomotives of the LMS (NCC): and its predecessors.
Coat of Arms
See top of page, IRRS
Rolling Stock railwayana (see supplementary page on LMSNCC rolling stock railwayana for full details)
Locomotive nameplates:


NCC name and number. Source: SRA396
See supplementary LMS rolling stock railwayana page for additional name and number plates

BINEVENAGH, OLDERFLEET CASTLE, SLIEVE BANE, GLENAN, LISSANOURE CASTLE - P
ANTRIM CASTLE, THE BANN, BEN MADIGAN, BINEVENAGH, CARA CASTLE, CARRICKFERGUS CASTLE, COUNTY ANTRIM, COUNTY DONEGAL, COUNTY LONDONDERRY, DUNANANIE CASTLE, DUNLUCE CASTLE, GLENARIFF, GLENDUN, KENBAAN CASTLE, KING EDWARD VII, KNOCKAGH, LISSANOURE CASTLE, LORD MASSERENE, QUEEN ALEXANDRA, SILVER JUBILEE, SLEMISH, SLIEVE BANE, SLIEVE GALLION, TROSTAN, THE FOYLE & No. 93 - All at UFTM
THE BRAID, DUNANANIE CASTLE, EARL OF ULSTER - All at IRRS
GLENARM CASTLE & No. 71, DUNLUCE CASTLE - Fry
Works & tenderplates: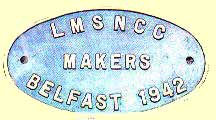 NCC makers' plate. Source: SRA996
See supplementary LMS rolling stock railwayana page for additional makers' plates


Wagon plates: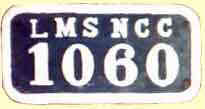 NCC wagonplate

Lineside and station railwayana (see supplementary page on LMSNCC lineside railwayana for full details)
Footbridge:
Bridge Restriction:
Bridge Numbers:
Trespass: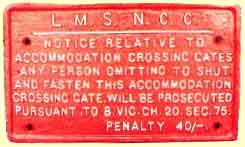 LMS accommodation gate. Source: SRA698

Station:
Mileposts:
Railchair:
Signalling: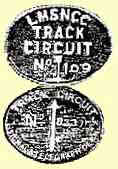 LMSNCC track circuit plates. Source: RCJ392

Cutlery, china, ashtrays etc.:
Miscellaneous:
---

Return to Index page, or go to LMS NCC subpage, LMS rolling stock railwayana.


Return to auction price data on original pages


For genealogy, go to my Lennan genealogy pages

---
Page posted 27/7/1997. Revised 14/12/08

This URL: http://www.irishrailwayana.com/ or http://www.irishrailroadiana.com/
Original URL: http://www.geocities.com/CapeCanaveral/Lab/8690/
Auction prices: http://gallery.uunet.be/ken.lennan/ now http://home.tiscali.be/ken.lennan/
Genealogy URL: http://homepages.rootsweb.com/~lennan/
---