Córas Iompair Éireann and Irish Rail
---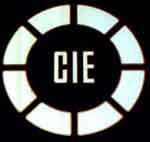 CIE logo
History: Summary
Came into being in 1945, when the GSR was amalgamated with the Dublin United Transport Company. All road and rail services, except in the areas under the jurisdiction of the GNRI came under the monopoly of CIE. Over 2600 miles of track were involved. The company was nationalized in 1950. On 1/10/1958 the GNRB operations in the the 26 counties were vested in CIE. In 1987 three new subsidiary companies were established to operate under the overall control of CIE. They included Iarnród Éireann, or Irish Rail and Dublin and provincial bus companies. Besides the railways, Irish Rail included the DART (Dublin Area Rapid Transit - the Howth to Bray line) system, the catering service, Rosslare Harbour and the Inchicore Works.
Rolling stock: Inherited GSR locos. Experiments with turf burning engines from 1952-1957 were unsuccessful. First diesels were 5 shunters with Mirrlees engines built at Inchicore Works in 1947-8. Two mixed traffic Bo-Bo locos were built in 1950-1 with Sulzer engines. Dieselization began in earnest in 1955 when an order placed with Metrovick for 94 diesel electrics (60 1200hp and 34 550hp) with Crossley engines. Also 48 [BC: 60 1952-4] diesel railcars were obtained from AEC and a further 6 were built at Inchicore. The Metrovicks were delivered between 1955-57. 12 other 960hp engines with Metrovick transmission, Sulzer engines and Birmingham R.C.W. bodies were also purchased plus 3 small 130hp diesel hydraulics Deutz locos (7 further added in 1962). 19 400hp diesel hydraulic engines with Maybach engines were built at Inchicore from 1955 and a further 14 in 1961. The first of a fleet of 15 GM Bo-Bo 950hp locos was introduced in 1961 to eliminate steam which still dominated the ex GNRB section. A further 37 were bought in 1962 (resulting in the ending of steam in April 1963) and 12 in 1966. From 1967 the earlier Crossleys were reengined with GM units. 18 2400hp Co-Co locos were later purchased from GM. Coaches from BREL in 1973.
Works: Inchicore. Broadstone for repairs in early years, wagon repairs up to 1961.
Livery: CIE - Locos: For a number of years all but the 800 class (green) were painted dark grey [and cast plates on tank sides were replaced by painted yellow numerals EFC], but subsequently the larger passenger engines, Dublin suburban tanks and diesels were painted green at the end of the forties. Diesels were silver. Coaches were malachite green with apple green line at waist, flying snail and numbers. Later livery was brown to waist, black above to top of windows and white line to roof, with new CIE emblem. [Baker] From 1946 GSR numberplates were replaced by large yellow unshaded painted numbers (except 800 class). From early 1947 all 4-6-0s, Woolwich 2-6-0s, three 4-4-0s and DSE suburban section tank engines were painted green, lined black and yellow. In its last years most surviving steam was black. [EFC: In July 1948 engines were light green lined out black and white, buffer beams and motion plates vermillion - No.502 being the first engine in the new livery. 1951 bluish green lined out in black and white]. First diesels were silver, some around 1960 light green. Single cab GN B class originally grey. Experimental orange (officially gold) broad lower band, black middle, white upper band and black roof tried out in summer 1961 and later adopted as standard. Many variations of this have been applied. Carriages were originally dark green with flying snail emblem, pale green broad stripe above and below windows. Lighter shade with pale green waist came in with Park Royals in 1955; also applied to railcars. At end 1955 unpainted aluminium coaches were introduced with large red 1s and 2s to indicate class and small red running nos.. From 1958 all carriages repainted standard green. New livery in 1961 - deep orange lower panels, white waist stripe, black upper panels, roofs and ends. Wagons were reddish brown, departmental stock grey. In 1973 locos were all over gold brown with a black band at window level, the band just a little broader than the full depth pf that on the BREL MkII coaches. Irish Rail new livery in 1988 used the hitherto standard golden brown and black with the addition of a narrow band of white (about 10 cms) on each side of the black portion. The CIE logo (wheel of eight segments) was replaced by the IE logo on the black part of the loco. On coaches the words InterCity are shown in large white on the lower brown section. Craven coaches and ex-BR MkI generator vans continued in CIE black, white and golden brown. New Rivers locos in 1995 received orange livery with black and yellow stripes. DMUs leased from NIR remained in grey (windows) maroon (waist) livery but with IE logo replacing that of NIR on the front diamond. For IE stations from 1996, dark green and light cream replaced dark blue.
Staff: CMEs included O.V.S.Bulleid 1949-1958. The first CME of Irish Rail was R.Grainger. General Managers included Sean Lemass to 1970, D.Herlihy 1970-2, J.J.Byrne
Signalling: Absolute block working and Harper's instruments on CIE double lines and former GNR main line. On Rosslare line automatic signals progressively introduced. Single lines on token system. On former GSR and GNR token was train staff with Electric Train Staff working on most. On some sections large 2ft. staffs were still seen in 1967, but preference was for miniature staffs. First CTC system in 1976 from Inchicore to Ballybrophy and branches as far as Athy and Tullamore. CTC at Amiens St. from 1983 and Greystones-Bray by track circuit block.In 1984 converted to computer based and extended from Tullamore to Ballinasloe, Knockcroghery and Moate. Similar system in early 1980s for line between Malahide and Greystones plus Howth branch.
Tickets: CIE central ticket printing headquarters at Broadstone. Almex machines using continuous paper roll introduced in 1964.
Further reading: B.Pender & H.Richards, Irish Railways Today, O.Doyle & S.Hirsch, Railways in Ireland 1834-1984, Michael C. Baker, Irish Railways since 1916, B.Carse, "The Transplant Story" JIRRS 1072, Jack Patience, CIE 1958 to 1962: Irish Railway Photographers, Anthony Burgess, Chasing the Flying Snail Irish Railway Photographers, Ernie Shepherd, Bulleid and the Turf Burner and other experiments with Irish steam traction .
Web: For a good treatment, see Steve Johnson on CIE History.
Logos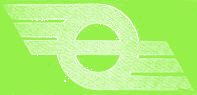 Two earlier CIE logos
The so-called flying snail (which, incidentally, had left and right side versions) was current from the beginning of the CIE epoch (dating from four years earlier in 1941 when the Dublin United Transport Company Ltd. adopted the device with the wording Iomchar Atha Cliath - Dublin Transport - on the middle bar) to 1964, after which it was replaced by the wheeled logo. In 1987 new logos were adopted. One logo showed a double junction from a four line track (Copy kindly supplied by L. Boyce). The IE logo was introduced in 1994.


IE logos

Rolling Stock railwayana (see supplementary page on CIE/IE rolling stock railwayana for full details)
Locomotive nameplates:


IE nameplate. Source: D.Cronin
Fitzpatricks (New York)
Works & tenderplates:
Carriage plates: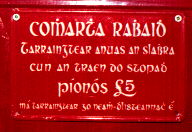 Gaelic - penalty for pulling cord
CIE Craven plate (See supplementary CIE rolling stock railwayana page)

Wagon plates:
Lamps:
CIE loco and tail.
CIE tail.
See supplementary CIE rolling stock railwayana page for lamps

Lineside and station railwayana (see supplementary page on CIE/IE lineside railwayana for full details)
Footbridge:

Bridge Restriction: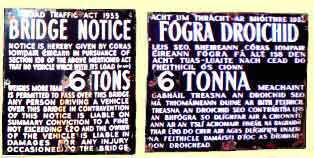 CIE bridge notice: Source D.Cronin

Bridge Numbers:

Trespass:
CIE enamels.
See supplementary CIE lineside railwayana page for two
Gate: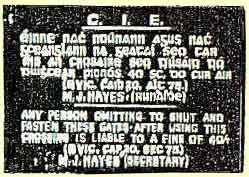 CIE enamel gate EG1. Source: T.Petchey
CIE gate warning. See supplementary CIE lineside railwayana page

Station:


GSR/CIE station Source: D.Cronin
CIE signal cabin Rathluirc: wood
GSR/CIE Gentlemen.
CIE painted wood 'Ladies Waiting Room'
See supplementary CIE lineside railwayana page for these

Mileposts:

Miscellaneous: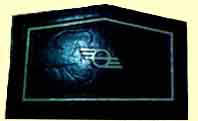 Alloy signalling cover. Source: D.Cronin

CIE Shunt notice.
CIE enamel bus, badges & buttons.
For these see supplementary CIE lineside railwayana page


---

Return to Index page, or go to CIE subpage, CIE rolling stock railwayana.


Return to auction price data on original pages


For genealogy, go to my Lennan genealogy pages

---
Page posted 27/7/1997. Revised 17/1/12

This URL: http://www.irishrailwayana.com/ or http://www.irishrailroadiana.com/
Original URL: http://www.geocities.com/CapeCanaveral/Lab/8690/
Auction prices: http://www.lennan.be, and http://users.skynet.be/ken.lennan/index.htm or http://gallery.uunet.be/ken.lennan/ now http://home.tiscali.be/ken.lennan/
Genealogy URL: http://homepages.rootsweb.com/~lennan/
---