Midland and Great Western Railway
---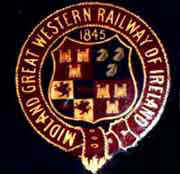 MGWR coa
History: Summary
Midland, Great Western Railway [Incorporated 1845, Dublin-Enfield opened 28/6/1847] reached Galway by 1/8/1851 and Sligo in 3/9/1862. Monaghan-Clones opened 2/3/1863. Liffey branch, giving access to the port of Dublin, was opened in 1864. Absorbed Dublin and Meath Railway [1858] in 1867?1888, Sligo and Ballaghadereen [1863] in 1877, Navan and Kingscourt [1865] in 1888. Lines to Killala, opened 1893 and Clifden and Achill in 1895, but these did not deliver on promised traffic and were closed in 1931, 1935 and 1937 respectively. Peak route mileage 538 miles (third largest after GSWR and GNR). Constituent of Great Southern Railway in 1924.

Rolling stock: From 1879 when production came on stream Broadstone accounted for 75% of loco requirements. The loco fleet on amalgamation was 139. 100 wagons from Metropolitan in 1870.
Works: Broadstone. Last of 126 engines produced there in 1927. Thereafter railway repair work gradually phased out to Inchicore, while road vehicle maintenance at Broadstone. Closed as a station in 1937. Wagon repair shops and loco depot closed 1961.
Livery: Nothing is known of early liveries, but by 1889 emerald green was being used with black and white lining. Under Cusack new engines were painted royal blue, lined yellow with red lines around the chimney rim. Buffers and buffer beams were bright red and there was brass beading around the splashers and a brass safety valve casing. Red numbers and nameplates. Tenders were lettered MGWR in small sans-serif gold. Goods engines were unlined blue but by 1905 a grass green was being applied. This lasted until 1913 when black became the standard colour. For coaching stock in early days both blue and green are referred to. Later stock was brown (GE shade) with very small numbers and titles. In 1901 a new blue livery was introduced with upper white and blue beading, lower panels and ends being blue. This did not weather well and from 1905 they were gradually repainted brown, except the royal saloon, dining cars and long bogie coaches. In 1917 a number of carriages were painted in various colours with a view to a livery change. In 1918 dark lake with vermillion lining was adopted. Lettering was painted or transferred on the waist panels in sans-serif with back shading. Letters and vehicle nos. were 3 inches high, the carriage classes being printed in full in letters 2 1/2 inches high. The standard wagon livery was a dark slate grey, with loco and traffic department wagons black. Permanent way vehicles were sand beige while passenger train wagons and brake vans were brown. [Baker: post 1916] Locos in last year black with red lining, brass numberplates or shaded yellow painted nos. on cab and tank sides and back of tender. MGWR initials and company crest on tender sides. Locos previously green and for a short while blue. Carriages dark brown with gold lining, lettering and numbers. Wagons principally slate grey.
Staff: Loco superintendents were John Dewrance 1847, (contactor) 1849, Edward Wilson 1853, Joseph Cabry 1856, Robert Ramage 1862, Martin Atcock 1872, Edward Cusack (1900 Shepherd, 1902 IRRS), Walter H. Morton 1915. Secretaries were H. Beausire 1845, G.W.Greene 1876, R.I.Badham 1902, P.Hay 1910, E.Taylor 1924. Managers were P.Roe 1849, W.Forbes 1855, W.Skipworth 1865, J.Ward 1869, J.Tatlow 1890, M.Keogh 1913-1924.
Signalling: Various. Webb and Thompson ETS on mainline after amalgamation from Clonsilla to Athlone. See Shepherd Appendix B for list of stations and intermediate block posts.
Other: In 1870 enamelled station signs were ordered from Willing & Co..
Further reading: Ernie Shepherd The Midland Great Western Railway of Ireland, Tom Middlemass Irish Standard Gauge Railways, Michael C. Baker Irish Railways since 1916, IRRS, London Area Irish Railways in Pictures, No.2-The Midland Great Western Line, W.E.Shepherd "The MGWR's Cavan branch" JIRRS 1087 and 288.
Coat of Arms
"Interestingly, the MGWR got it all wrong on its emblem! The castles of Dublin should be on a blue background, the three horse heads of Lord Blayney should have been silver and erased (not couped as shown) on a black field. Griffins and boars of Longford should be blue and silver on ermine and red fields respectively." Source: D. Cronin on basis of Dow 'Railway Heraldry'.
Coa - Fry
Rolling Stock railwayana (see supplementary page on MGWR rolling stock railwayana for full details)
Locomotive nameplates, etc.: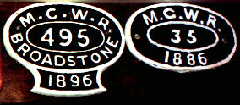 Makers' plates.
See supplementary MGWR rolling stock railwayana page for more makers'plates

Coach & wagon plates: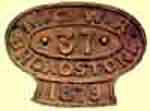 MGWR carriage makers (full image 20K)

See supplementary MGWR rolling stock railwayana page for an additional rolling stock plates, axle box cover, destination board


Lineside and station railwayana (see supplementary page on MGWR lineside railwayana for full details)
Footbridge:

Bridge Restriction:

See supplementary MGWR lineside railwayana page for bridge restriction

Bridge Numbers: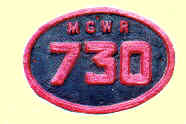 MGWR bridge no. Source: SRA600
See supplementary MGWR lineside railwayana page for additional bridge nos.
The following exist: 730, 34, 351, 328, 255, 350, 248 and 237 - private

Trespass:
MGWR enamel trespass
See supplementary MGWR lineside railwayana page for illustration
At least two exist - private
Gate: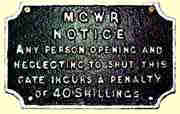 MGWR gate (full image 19K)

1 - IRRS, 1 - private
Station:


MGWR cast iron poster board heading?
See supplementary MGWR lineside railwayana page for fender


Mileposts:

Railchair:

Signalling:

MGWR staff (triangular). Source: SRA300

Cutlery, china, ashtrays etc.:

Miscellaneous:

---

Return to Index page, or go to MGWR subpage, MGWR rolling stock railwayana.


Return to auction price data on original pages


For genealogy, go to my Lennan genealogy pages

---
Page posted 27/7/1997. Revised 5/7/01

This URL: http://www.irishrailwayana.com/ or http://www.irishrailroadiana.com/
Original URL: http://www.geocities.com/CapeCanaveral/Lab/8690/
Auction prices: http://www.lennan.be, and http://users.skynet.be/ken.lennan/index.htm or http://gallery.uunet.be/ken.lennan/ now http://home.tiscali.be/ken.lennan/
Genealogy URL: http://homepages.rootsweb.com/~lennan/
---