Cork, Bandon and South Coast Railway
---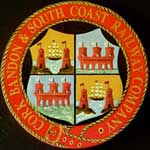 CBSCR coa. Source: D.Parker
History: Summary
Cork, Bandon and South Coast Railway [Amalgamation 1888]. Originally Cork and Bandon Railway [Incorporated 1845, Opened 1851 with 6 1/2 miles to Bandon and in December 1851 another 13 1/4 mile to Cork], Bought the West Cork [Incorporated 1860, Opened 1866, 17 3/4 miles, and worked independently until 1880] and the Cork and Kinsale Junction Railway [Incorporated 1859, Opened 1863, 11 miles, and worked by the CBSCR] in 1880, as well as leasing the Ilen Valley Railway [1872, Opened 1877, 16 miles, and worked by the CBSCR]. The latter company remained independent until 1909. An extension from Drimoleague to Bantry (11 miles) opened on 1 July 1881. Another concern, the Bantry Bay Extension Railway, a separate company but worked by the CBSCR, opened on 22 October 1892 bringing the line through Bantry to the pier at Bantry Bay. The 9 mile Clonakilty Extension (from Clonakilty Jct. to Clonakilty) was opened in 1886 and worked by the CBSCR. Associated with the Clonakilty branch was the standard gauge Timoleague & Courtmacsherry Light Railway (see Other Cork railways). An extension from Skibbereen to Baltimore (8 miles) opened in 1893. The Baltimore Extension Railway was a separate company but worked by the CBSCR. Route mileage of the CBSCR was 94 miles (owning 65 miles and working 28). The continuous main line was 61 1/4 miles. A constituent in 1921 of the consortium to link Albert Quay with GSWR Glanmire Rd. across the River Lee. Became a constituent of Great Southern Railway in 1924. Completely closed in 1961.
Rolling stock: Locomotives from Dubs and subsequently Beyer Peacock was main supplier, although two US Baldwins supplied in 1900. 20 locos at amalgamation. 18 covered wagons in 1876 from South of Ireland Wagon Co..
Works: The company's Rocksavage workshops produced one loco in 1901.
Livery: Engines olive green with yellow lining. Unlined grey in GSR era. [EFC West Cork engines were olive green lined out black and vermillion. In 1880 Cork and Bandon engines were olive green. In 1914 engines and coaches were various shades of olive green with yellow lining. Engines had polished brass domes and some had copper-capped chimneys. Upper panels of some coaches were a lighter shade of green. In 1915 coaches were green and engines green. In 1921 engines and coaches were olive green lined out in yellow.]
Staff: Loco engineers included J.W.Johnstone 1921. The Secretary in 1868 was J.Hackett and in 1924 was Robert H. Leslie.
Signalling: West Cork Railway had changed from one engine in steam to train staff in 1877.
Further reading: H.C.Casserley "Outline of Irish Railway History" pps.111-121. See also Dave Parker page which also has some nice coats of arms.
Coat of Arms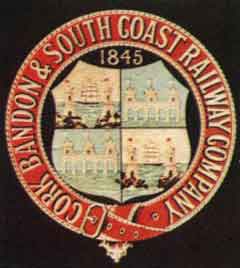 Alternative coa (full image 48K) © Keldale Fine Art

Baltimore Extension Railway. Source: D.Parker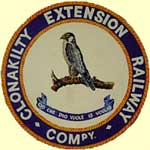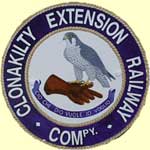 Clonakilty coats of arms. Source: D.Parker

Rolling Stock railwayana
Locomotive nameplates:

Works & tenderplates, etc.: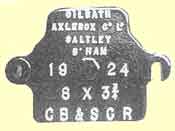 Axlebox cover. Source: RAG30 (Click thumbnail for full image)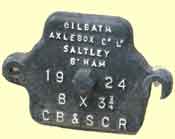 Another axlebox cover (Click thumbnail for full image)
Lineside and station railwayana
Footbridge:

Bridge Restriction:

Bridge Numbers:

Trespass: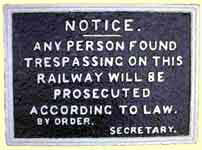 CBSCR trespass (full image 48K) Source: D.Cronin

Station:


CBSCR station. Source: D.Cronin


BER station sign Source: D.Parker


CBSCR station from later era. Source: GCR1007.
Mileposts:




CBSCR mileposts Source: D.Cronin
A photo (by M.J.Marr, not reproduced here) of a different pattern 3/4 post appears Tim Petchey's "Railway Mileposts (Part 2)", in RCJ 118. "Cork Bandon & South Coast Railway. The illustration shows a three quarters post from the main line near Durrus Road station. It is hewn out of stone with two angled faces and a kind of round "knob" on top. Each face is engraved with the three quarters numerals divided by a steeply inclined bar. These posts would seem to have been painted white with black figures."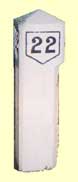 CBSCR milepost. Source: D.Cronin (full image 44K)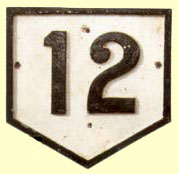 Cork & Bandon milepost. Source: GCR1009.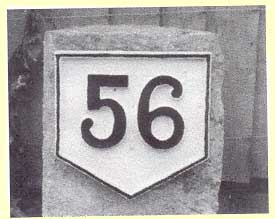 BER milepost. Source: T.Petchey (RCJ 117)
RCJ117: "Baltimore Extension Railway. Only a full mile post is available for study. It is a thin, flat, galvanised cast iron plate forming a rather angular five-sided shield with a raised border 3/8" thick. The plate is 1/2" thick including the border and 10" wide. The vertical sides are 6 7/8" long and the height to the top centre to the point at the bottom is 9 3/4". There are four small countersunk holes near the centres of the sides and the top, and at the corresponding position below the numerals. the plate is fixed vertically to an upright post made of local stone, approximately 12" wide. The stone was usually left unpainted. Although technically a separate company, the Baltimore Extension was always worked as a part of the Cork, Bandon & South Coast Railway's system. The mileposts differed from those of the parent company but the measuring point was still Cork".
Railchair:

Signalling:

Crossbarry staff (full image 13K) Source: D.Cronin


CBSCR Clonakilty-Ballinascarthy Jct. W & T staff. Source: SRA307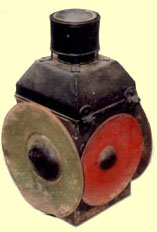 CBSCR lamp. Source: GCR1009.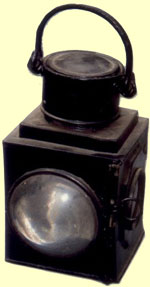 CBSCR lamp. (full image 20K) Source: GCR110.
Cutlery, china, ashtrays etc.:

Miscellaneous: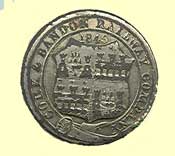 CBRSCR button Source: D.Cronin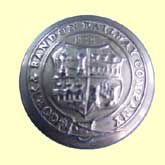 Cork & Bandon Railway button. Source: TRA812 (full image 15K)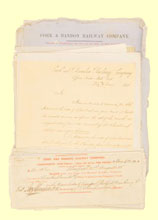 Cork & Bandon Railway documents. Source: SRA215. full image 14K.

---

Return to Index page, or go to Southern page 11, Other Cork railways (CMDR, TCLR).


Return to auction price data on original pages


For genealogy, go to my Lennan genealogy pages

---
Page posted 27/7/1997. Revised 5/7/15

This URL: http://www.irishrailwayana.com/ or http://www.irishrailroadiana.com/
Original URL: http://www.geocities.com/CapeCanaveral/Lab/8690/
Auction prices: http://www.lennan.be, and http://users.skynet.be/ken.lennan/index.htm or http://gallery.uunet.be/ken.lennan/ now http://home.tiscali.be/ken.lennan/
Genealogy URL: http://homepages.rootsweb.com/~lennan/
---