West and South Clare Railways
---


WCR and SCR Coats of Arms
History: Summary
Gauge 3ft. West Clare opened from Ennis to Milltown Malbay 2/7/1887. South Clare from Milltown Malbay to Kilkee and Kilrush opened 1892 (3/8/92 for goods and 23/11/92 for passengers). 53 Route miles in 1911 (WC 27, SC 26). Absorbed in GSR 1925. Closed 1/2/1961.
Rolling stock: 11 locos, 27 passenger vehicles, 7 other passenger, 139 goods vehicles in 1911. There were 16 locos, all 6 coupled, over the years (5 Bagnall - Mks. No. 730 of 1887, 738, 793, 794, and 818 of 1903, 4 Dubs - Mks. No. 2890-2 of 1892 and 3169 of 1894, 3 Hunslet - Mks. No. 1098 of 1912, 1432 and 1433 of 1922, 3 T.Green - Mks. No. 229 of 1898, 234 of 1900 and 236 of 1901, 1 Kerr Stuart - Mks. No. 818 of 1903). Two Drewry railcars in 1928. In 1951 four railcars from Walker Bros. as well as 3 diesel locos from the same company in 1955. Original 13 coaches from Bristol Wagon Works with further 6 for the opening of the SCR, 5 in 1894 and a horse box in 1897. Two coaches in 1901 were ordered from Metropolitan. Four coaches were built at Ennis in 1905-6 and several other coaching vehicles were built there. Coaching stock was 38 vehicles. From 1902 to 1923 94 new wagons were built at Ennis.
Works: Ennis (73 people employed).
Livery: [RWK: Locos green, later black (grey?), coaches green and white.] [HCC: Locos repainted plain gray in 1925. In that year the GSR removed all loco name cast plates on tank sides, nos. were retained with the suffix C, new plates of GSWR pattern being cast.] [EFC 1909 loco painted black with red and white lining, the broad red line being flanked by fine white ones. Nameplate brass with red background.][MCB (before 1925): Locos black lined in red, white and vermillion, underframes mid-brown; carriages, first class dark blue with white lining, third class dark red with black lining. (Preserved No.5 in earlier green livery).][AJO'R (early 1920s): WCR coaches green below waist and white or cream above with gold lettering and coa in the middle. Goods stock seemed light grey with white letters. After amalgamation, the coaches became maroon amd the wagons dark grey.] [PT: Original coaches were green with white roofs. The heraldic device on two doors. The words West Clare Railway were on panel above doors and windows. Brake vans were of similar livery. After amalgamation the GSR changed the livery to brown with their crest on the centre panels and the class on compartment doors. With one exception (No.36 remaining grey) brake vans were also painted brown. The nos. were carried in small numerals at the ends and GSR crest was on door below 'Guard'.]
Staff: Locomotive engineers (decision to appoint one in 1887 but no appointment made) included G.Hopkins 1891, W.J.Carter 1902.
Signalling: Manual staff and ticket. Sections - SC: Miltown Malbay-Moyasta Jct. (later divided into three at Kilmurry and Doonbeg); WC: Four sections between Ennis and Miltown Malbay equipped with electric staff instruments about 1936.
Other: [AJO'R (early 1920s): Lighting by acetylene gas. Footwarmers mentioned.] [PT: lighting prior to 1904 exclusively by oil but tests in that year led to the progressive installation of gas.]
Further reading: R.W.Kidner Narrow Gauge Railways of Ireland 4th ed. 1965, P. Taylor The West Clare Railway, H.C.Casserly Outline of Irish Railway History, M.C.Baker Irish Railways since 1916, A.J.O'Rourke "The Letters of William South" JIRRS 696.
Web: Matthew Labine's West Clare Garden Railway documenting his 45mm gauge, 15mm scale, garden railway. The Narrow Gauge Museum at Tywyn in Wales has an illustration of a 'WCRCoLd 6x3 Oilbox Axlebox Co Ld Saltley 1913' here.
Coat of Arms

South Clare coa. Source: SRA304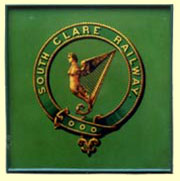 South Clare Railway coa. Source: GCR409. full image 23K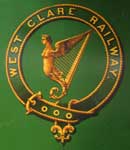 West Clare coa. (full image 60k)

Rolling Stock railwayana
Locomotive nameplates:

Works & tenderplates:

Wagon plates etc.: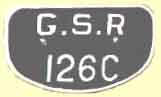 WCR 5T open coal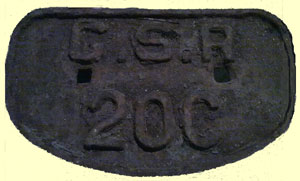 WCR wagon. Source: DC. Click for larger 89K image.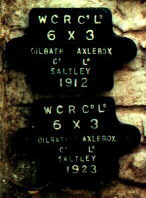 Two WCR axlebox covers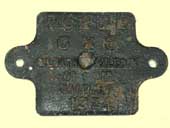 WCR axlebox cover. Source: ebay804. Click for larger image.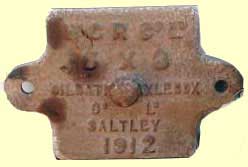 West Clare axlebox cover. Source: SRA1211 (postal auction)


Axlebox covers pre & post-grouping. Source: RAG30 Click for larger image.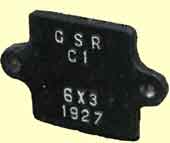 Click for a larger WCR axlebox cover.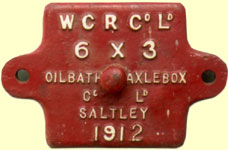 WCR axlebox. Source: GCR110. Click for larger image.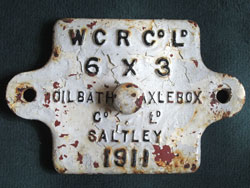 WCR axlebox cover 1911. Source: ebay415. full image 265K.
Lineside and station railwayana
Footbridge:

Bridge Restriction:

Bridge Numbers:

Trespass:

Station:

Mileposts:

Railchair:

Signalling: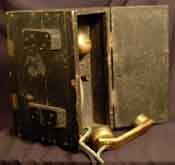 WCR phone? Source: ebay1204
Miscellaneous: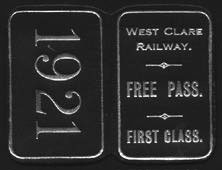 WCR pass Source: SRA1101
---

Return to index page, or go to Narrow Gauge page 3, Clogher Valley Railway.


Return to auction price data on original pages


For genealogy, go to my Lennan genealogy pages

---
Page posted 27/7/1997. Revised 5/7/15

This URL: http://www.irishrailwayana.com/ or http://www.irishrailroadiana.com/
Original URL: http://www.geocities.com/CapeCanaveral/Lab/8690/
Auction prices: http://www.lennan.be, and http://users.skynet.be/ken.lennan/index.htm or http://gallery.uunet.be/ken.lennan/ now http://home.tiscali.be/ken.lennan/
Genealogy URL: http://homepages.rootsweb.com/~lennan/
---