Londonderry and Lough Swilly Railway
---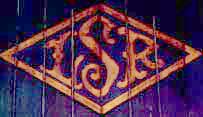 LLSR logo
History: Summary
Incorporated 1860. Opened 12/11/1863 as 5'3" gauge line, Londonderry to Farland Pt. with branch to Buncrana. Farland closed 1866. Letterkenny railway opened 30/6/1883, Cuttymanhill to Letterkenny, gauge 3ft., worked by LLS, and absorbed by them in 1887. Existing line relayed to 3ft gauge 1885, and extended to Carndonagh (1/7/1901, Closed 2/10/1935) and Burtonport (9/3/1903). The Burtonport extension (49 3/4 miles) was worked by the LLSR, although with nominally separate engines and stock. 100 route miles in 1911. Not included in GSR merger, since 3 miles in Northern Ireland. Londonderry to Buncrana section closed to passengers 6/9/1948 (goods August 1950). Burtonport extension closed - Gweedore-Burtonport 1/6/1940, Letterkenny-Gweedore 1/6/1947. All closed by 1953.
Rolling stock: 18 locos, 49 passenger and 8 other passenger, 274 goods vehicles in 1911. Locomotives: 6 new 5'3" built 1862-79 (2 Nominally by Fossick and Hackworth, but actually by Gikes Wilson 0-6-0T- 1862 Mks.No. 141-2, 2 Robert Stephenson 0-6-0T- 1864 Mks.Nos. 1609-10, 2 Sharp Stewart 0-6-0T- 1876 Mks.No. 2645, 1879 Mks.No. 2836), three converted to NG 1885; 20 new 3' gauge built 1882-1912 (4 Black and Hawthorn 3 0-6-2Ts and 1 0-6-0T- 1882 Mks.No. 684, 1883 Mks.Nos. 742-3, 1885 Mks.No. 834), 4 Hudswell Clarke 4-6-2Ts- 1899 Mks.Nos. 518-9, 1901 Mks.Nos. 562 and 577, 4 Andrew Barclay 4-6-0Ts- 1902 Mks.Nos.933-6, 2 Kerr Stuart 4-6-2Ts- 1904 Mks.Nos. 845-6, 2 Hudswell Clarke 4-8-0s- 1905 Mks.No. 746-7, 2 Hawthorn Leslie 4-6-2Ts- 1910 Mks.Nos. 2801-2, 2 Hudswell Clarke 4-8-4Ts-1912 Mks.Nos. 985-6); 2 secondhand acquired 1885 (from Glenariff Iron & Ore Co. Co. Antrim). In 1946 the company possessed 10 locos. Coaches: +/- 20 bogie and 18 6-wheel. 1st, 2nd (abolished 1928-9) and 3rd, vacuum brake. Fayle recorded 37 coaching vehicles in 1946.
Works: Situated at Derry (Pennyburn).
Livery: Coaches originally brown and cream, subsequently grey. As built, the 4-8-4T locos were pea green and the body was fully lined out in yellow/black/yellow. The cab front and back sheets appear to have been black. The frames were Indian red and the cranks scarlet, the wheels being green behind them. Between the wars most locos were repainted black, some with lining and lettering, some without. By 1940 they were beginning to revert to green, although the actual shade varied from loco to loco, e.g. No. 5 was middle green all over, with a single yellow line with reversed corners, a yellow monogram and green flutes to the coupling rods.
Staff: 20 loco superintendants often of short duration, except Mr. Napier 1919-1951.
Signalling: Original line from Londonderry to Buncrana worked on four train staff and ticket sections, but only Tooban Jct. used as a crossing station. The remainder of the line was equipped with the electric stafff system the sections being: Tooban Jct., Newtoncunningham, Letterkenny, Kilmacrenan, Creeslough, Gweedore, Burtonport; Buncrana, Clonmany, Carndonagh.
Further reading: J.I.C.Boyd The Londonderry and Lough Swilly Railway, R.W.Kidner Narrow Gauge Railways of Ireland, D.Lloyd Modelling the Irish Narrow Gauge , H.Fayle Narrow Gauge Railways of Ireland, J.D.Fitzgerald "Forbes on the LLSR 1928" JIRRS 293, Anthony Burges, The Swilly and The Wee Donegal: Irish Railway Photographers.
Web: The Donegal Railways site has much information on the LLSR. The Narrow Gauge Museum at Tywyn in Wales has a number of Irish narrow gauge items. Browse through their collection starting here for LLSR railwayana. Items illustrated are: 2 W&T 'Carndonagh-Clonmany' staffs, and a cast iron LLSR 'Trespassers Prosecuted' sign (not currently illustrated).
Coat of Arms
Coa
Fry
Rolling Stock railwayana
Locomotive nameplates:
Makers plate/Number of no.5 is reported to exist as a coffee table! A whistle also. (D.Lloyd, p.10)
Works & tenderplates:

Wagon plates: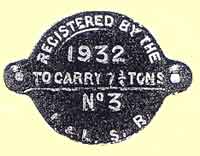 Source: RAG12. Click for larger image.
Lineside and station railwayana
Footbridge:

Bridge Restriction:

Bridge Numbers:

Trespass: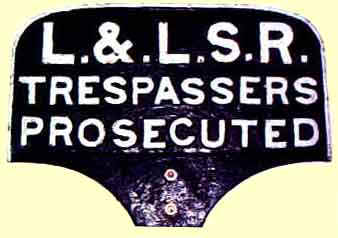 LLSR trespass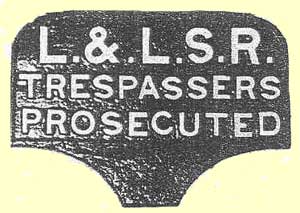 LLSR trespass at Tywyn. Source: RAG43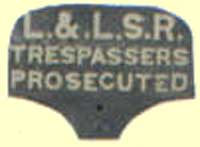 LLSR Trespass. Source: SRA607
IRRS
Station:


LLSR notice header at Tywyn, Wales. Source: RAG43


LLSR notice header. Source: KH/NZ. Click for larger image.


LLSR headers. Source: RAG52. Click for larger image.


LLSR notice board header. Source: GCR1009. Click for larger image.
Mileposts:

Railchair:

Signalling:


LLSR 'Buncrana & Tooban' staff. Source: GCR1008. (full image 5.9K).

W & T LLSR 'Carndonagh-Clonmany' staff. Source: GCR113 (full image 23K)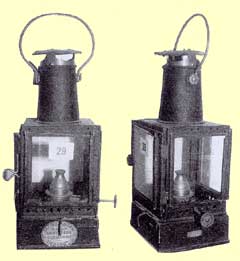 Letterkenny Railway Saxby & Farmer lamp. Source: RAG57. Click for larger image.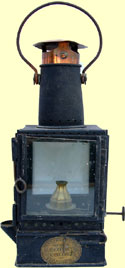 Letterkenny Railway gate crossing lamp. Source: GWRA509. full image 47K
Cutlery, china, ashtrays etc.:

Miscellaneous: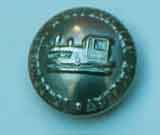 LLSR nickel button, F61.2, 17mm.


LLSR button. Source: TRA505


LLSR luggage label No. 57658. Source: SRA296, b/w coloured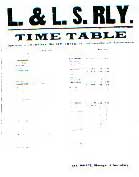 LLSR poster 44x57. Source: SRA296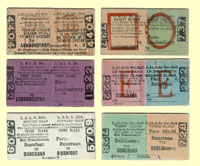 Source: ebay1107. Click for larger image.

---

Return to index page, or go to Narrow Gauge page 7, Tralee and Dingle Light Railway.


Return to auction price data on original pages


For genealogy, go to my Lennan genealogy pages

---
Page content posted 27/7/1997. Revised 29/3/13

This URL: http://www.irishrailwayana.com/ or http://www.irishrailroadiana.com/
Original URL: http://www.geocities.com/CapeCanaveral/Lab/8690/
Auction prices: http://www.lennan.be, and http://users.skynet.be/ken.lennan/index.htm or http://gallery.uunet.be/ken.lennan/ now http://home.tiscali.be/ken.lennan/
Genealogy URL: http://homepages.rootsweb.com/~lennan/
---