Sligo, Leitrim and Northern Counties
---

IE logo
History: Summary
Enniskillen-Belcoo section opened in 1879. To Glenfarne on 1/1/1880. Manorhamilton was reached on 1/12/1880, Collooney on 1/9/1881, Carrignagat Jct. on 7/11/1882 giving access to Sligo over the MGWR. The SLNCR was the last Irish railway to purchase a steam locomotive (1951). The line closed in 1957.
Rolling stock: 13 New locos built 1877-1951 (10 Beyer Peacock - Mks.Nos. 2137-8 of 1882, 3677 of 1895, 4073-4 of 1899, 4592 of 1904, 4720 of 1905, 5943 of 1917 and 7138 and 7242 of 1949, 2 Avonside Engine Co. Mks.Nos. 1197-8 of 1877, 1 Hudswell Clarke Mks.No. 261 of 1883). 7 secondhand locos acquired 1897-1941 (2 contractors, 5 GNR). An AEC ex-GNR railbus was acquired in 1935, and 2 others in 1938. A diesel railcar from Walker Bros. was delivered in 1947 (sold to CIE on closure). Total rolling stock was at a peak in 1913 when there were 19 carriages, 13 'other passenger' vehicles and 201 freight wagons (probably one half cattle and the remaining half split fairly equally between covered and open). Initial orders for rolling stock went to the Bristol Wagon Co. (2 tricompos, 2 3rds, 2 3rd brakes, 27 covered and 10 ballast wagons in 1877). Two 6 wheel composites came, in 1909, from the DNGR and three bogie coaches from Hurst, Nelson in 1924. 10 coaches were in existence in 1947.
Works: Locos and wagon works at Manorhamilton. Renewal of fireboxes were contracted out to Dundalk.
Livery: Original loco livery was lined olive green with polished brass domes and chimney caps. Nameplates were also brass with polished letters and painted ground. Later a plain black livery was adopted which was also applied to the brasswork, although the borders and lettering of the nameplates were picked out in red. For a short period while in the early days of the black livery, the company initials SL&NCR appeared on the tanks of the 0-6-4T locos and on the tenders of the 4-4-0's; the ampersand was omitted on 'Sir Henry'. Coupling rods were painted red. The livery of the railcars and railbuses was two tone green with white roofs. Below the waistline was regent green, with olive green above separated by one or two narrow black lines. The company's full initials were applied at waist level in shaded leaf transfers. The letter identification was shown, again by means of transfers, below the driver's window on the front of the railbuses, and, on the railcar, on the panel separating the two windows on both the power unit and passenger saloon ends. The carriage livery was maroon, unlined with the company's full initials (SL&NCR), running number (preceded by No.) and class indication applied in shaded leaf transfers. The livery of goods stock was the customary grey with the company initials (latterly abbreviated as "SLNC") and running number applied in white paint; the number appeared on the ends of the vehicles in addition to the sides.
Staff: Locomotive superintendents were R.Logan 1879, H.Tottenham 1881, E.Murphy 1892, E.Shanks 1911, R.W.Sparks 1919, G.F.Egan 1925-1957. Secretaries were R.E.Davis 1877-1895 (Manager and Receiver 1895-1897) and 1897-1908, S.B.Humphries (and General Manager) 1908-9, J.Duff 1909- , S.C.Little (and G.M. from 1918) 1921-1956, E.W.Monahan (and G.M.) 1956-57.
Signalling: Staff and ticket. Sections and (forms of staffs) in 1936 were: Enniskillen- Florencecourt (White metal, round with cross head)- Belcoo (Round)- Glenfarne (Round)- Manorhamilton (Brass, square)- Dromahair (Triangular) -Collooney (Round). In 1936 the Collooney-Ballysodare section had replaced the original between Collooney and Carrignagat Jct.(no record available of type) and was worked under GSR electric train staff regulations.
Further reading: N.W.Spinks Sligo, Leitrim and Northern Counties Railway, "SLNCR 40 Years Closed" JIRRS 1097.

Web: See Belturbet site for SLNCR material.
Coat of Arms
Rolling Stock railwayana
Locomotive nameplates and numbers:

SLNCR nameplate. Source: SRA399

SLNCR nameplate. Source: SRA292, b/w enhanced
SLNCR nameplate. Source: SRA607 (full image 8k)

SLNCR 'Lough Melvin' nameplate. Source: SRA311.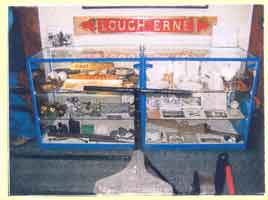 SLNCR nameplate - Enniskillen Railway Museum. Source: RAG60.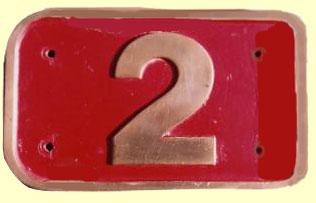 SLNCR cabside. Source: SRA311 (with photo mods to right and top)
Works & tenderplates: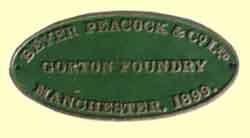 SLNCR makers' plate. Source: SRA306. (full image 7k).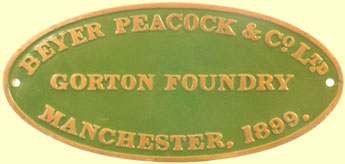 SLNCR Beyer Peacock 1899 makers plate. Source: GCR316. (full image 39k).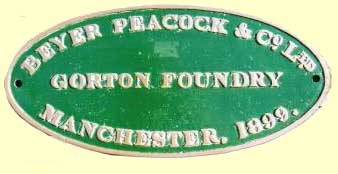 SLNCR 'Hazelwood' or 'Lissadel' maker's plate. Source: SRA1211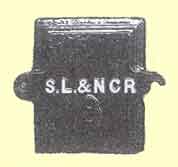 SLNCR axlebox cover. Source: RAG30. (full image 13k)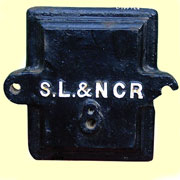 SLNCR axlebox cover. Source: TRA0314 full image 106K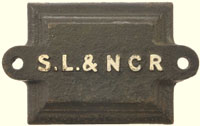 full image 41K SLNCR axlebox cover. Source: GCR616.
Lineside and station railwayana
Footbridge:

Bridge Restriction:

Bridge Numbers:

Trespass: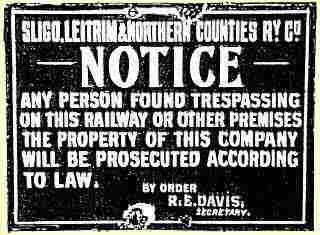 SLNCR enamel trespass (ETSL101). Source: T.Petchey (full image 66k)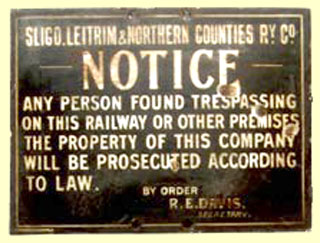 SLNCR trespass. Source: GCR1009.
Gate: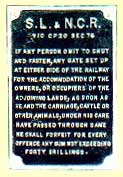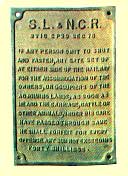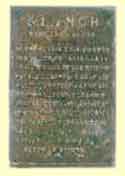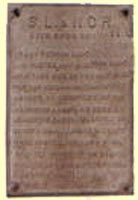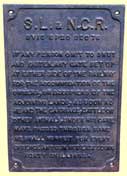 SLNCR gates. Sources: SRA1295, SRA1298 & SRA1206 & SRA907 & TRA313 (full image 19k)

Station: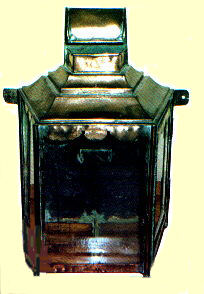 SLNCR (but later determined MGWR) Station lamp. Source: SRA300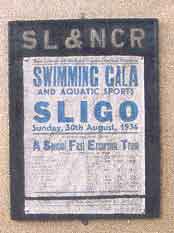 SLNCR poster board. Source: RAG60
Mileposts:

Railchair:

Signalling:

Miscellaneous: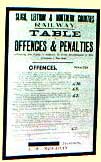 SLNCR offences poster 46x66. Source: KRA198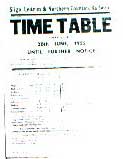 SLNCR TT poster 1955, 39x50. Source: SRA296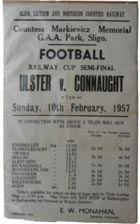 SLNCR poster. Source: BRI1012. (full image 24k)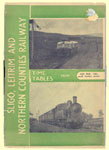 SLNCR 1957 TT. Source: ebay607 (full image 24k)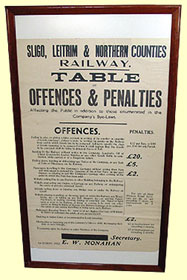 SLNCR penalty poster. Source: TRA210. (full image 33k)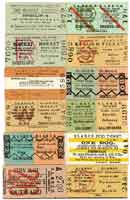 SLNCR tickets. Source: PRO605 (full image 26k)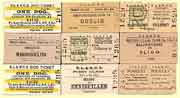 SLNCR tickets. Source: ebay0408 (full image 17k)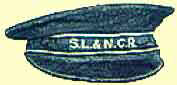 SLNCR cap. Source: TRA901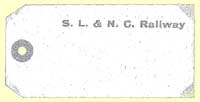 SLNCR label. Source: RAG45 (full image 117k)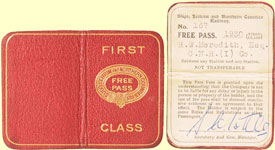 SLNCR pass. Source: GCR513(tickets). (full image 68k)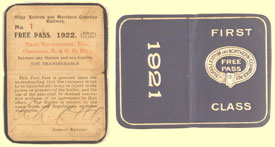 SLNCR free pass. Source: SRA0114 full image 57K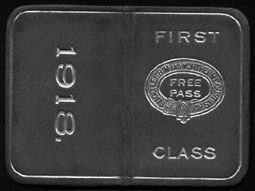 SLNCR free pass. Source: SRA1101. full image 51K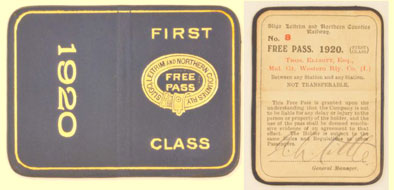 SLNCR free pass 1920. Source: SRA1215. full image 57K.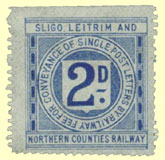 SLNCR stamp. Source: ebay509. (full image 39K).

---

Return to Index page, or go to Southern page 1, Córas Iompair Éireann and Irish Rail.


Return to auction price data on original pages


For genealogy, go to my Lennan genealogy pages

---
Page posted 27/7/1997. Revised 29/10/16

This URL: http://www.irishrailwayana.com/ or http://www.irishrailroadiana.com/
Original URL: http://www.geocities.com/CapeCanaveral/Lab/8690/
Auction prices: http://www.lennan.be, and http://users.skynet.be/ken.lennan/index.htm or http://gallery.uunet.be/ken.lennan/ now http://home.tiscali.be/ken.lennan/
Genealogy URL: http://homepages.rootsweb.com/~lennan/
---