Cork, Blackrock and Passage Railway
---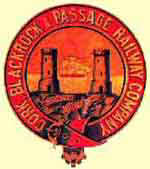 CBPR coa
History: Summary
Originally standard gauge. The 6 mile stretch from Cork (City Park) to Passage opened on 8/6/1850. The terminus was moved to Cork (Albert Street) on 6/2/1873. This involved the closure of the City Park - Marina section of line and its replacement by a one and a half mile stretch of single line from Marina to Albert St.. The railway was converted to 3 ft. narrow gauge between Cork and Passage in October 1900 and an extension line to Crosshaven was constructed between 1902 and 1904 (involving the construction of a tunnel at Passage). Unusually for a narrow gauge system, the CBPR had a double line section from Cork to Blackrock. It was also unique for a narrow gauge system in having an intensive passenger service. The company also operated steamer services for the coastal resorts in connection with the trains. It originally had four paddle steamers, although their ownership was not sanctioned until 1881. It acquired the vessels of the Citizen River Steamer Company in 1890 but these were scrapped or disposed of soon afterwards. By 1892, the company was operating 5 steamers. In 1911, the CBPR system involved 16 route miles and the company had 4 locos, 28 passenger vehicles and 29 goods vehicles. Heavy wartime traffic resulted in the the temporary transfer of a CDRJC engine (returned in 1921) and five LLSR carriages to the CBPR. In 1925 the CBPR became part of the Great Southern Railways. The double line was singled in 1927. The line was closed on 10/9/1932 with all locos and 34 goods vehicles being transfered to the CLR.
Rolling stock: Locomotives: 3 Sharp Bros. 5ft 3inch gauge, Mks.Nos. 655-6 and 662 of 1850 (withdrawn in 1900). 4 Neilson Reid locos, Mks.Nos.5561-4 of 1899, acquired when line converted to narrow gauge. Passenger: 3 firsts, 2 seconds, 6 thirds and two composites. Other: 2 brake vans and 2 ballast wagons. On conversion to narrow gauge the contract for new rolling stock went to Brown, Marshall and Co.. In the narrow gauge era, there were 12 first class coaches and 16 third class and a number of open wagons, vans and cattle wagons (34 goods wagons at closure).
Works: Moved to Passage in 1900. To Albert St. in 1929.
Livery: Locos: originally green, subsequently black, lined with white and red. Coaches: green before and after conversion to narrow gauge. Crest on each coach, plus company's initials in small letters and 'third' or 'first' on each door. The GSR livery was dark grey for locos and green for passenger rolling stock, but the old CBPR livery was seemingly maintained for several years after grouping.
Staff: Loco superintendents included J.Barber 1868-1876 and T.Warrener 1877-?. Engineer in 1886 was J.W.Derman.
Signalling: Preece's double line block system from Cork to Blackrock. Webb and Thompson staffs on 5 (from 1906) single line sections (Blackrock-Rochestown, -Passage, -Monkstown, -Carrigaline, -Crosshaven). The passing loop at Rochestown was only installed in 1906.
Further reading: S.C.Jenkins The Cork, Blackrock and Passage Railway, A.T.Newham The Cork, Blackrock and Passage Railway
Coat of Arms
Rolling Stock railwayana
Locomotive nameplates:

Works & tenderplates:

Carriage and wagon plates


CBPR axlebox cover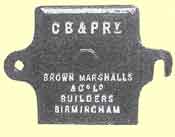 Axlebox cover. Source: RAG30. (full image 25K)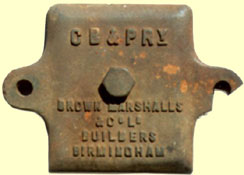 CBPR axlebox. Source: GCR110. (full image 20K)
Lineside and station railwayana
Footbridge:

Bridge Restriction:

Bridge Numbers:

Trespass:

Station:


CBPR lamp bracket. Source: D.Cronin
(full image 15K)
Mileposts:

Railchair:

Signalling:

Cutlery, china, ashtrays etc.:

Miscellaneous: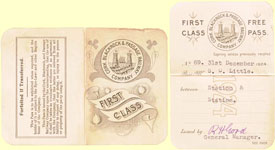 CBPR pass. Source: GCR513(tickets). (full image 48k)

---

Return to index page, or go to Narrow Gauge page 6, Londonderry and Lough Swilly Railway.


Return to auction price data on original pages


For genealogy, go to my Lennan genealogy pages

---
Page posted 27/7/1997. Revised 26/9/13

This URL: http://www.irishrailwayana.com/ or http://www.irishrailroadiana.com/
Original URL: http://www.geocities.com/CapeCanaveral/Lab/8690/
Auction prices: http://www.lennan.be, and http://users.skynet.be/ken.lennan/index.htm or http://gallery.uunet.be/ken.lennan/ now http://home.tiscali.be/ken.lennan/
Genealogy URL: http://homepages.rootsweb.com/~lennan/
---